EcoWorld builds hassle-free business parks in Johor
THE interview with Eco World Development Group Bhd president and CEO Datuk Chang Khim Wah and divisional general manager Datuk Hoe Mee Ling was held in the sales gallery — two factory lots combined — in EcoWorld's Eco Business Park I (EPB I) in Tebrau, Johor.
An impressive building with high ceilings and exact details, it takes a moment to get over the feeling that this somehow cannot be an EcoWorld product. But Chang says it is part and parcel of the company's growth.
"A lot of people know EcoWorld through our residential launches and the way we have done big townships like Eco Majestic, Eco Botanic, Eco Spring and Eco Summer. But one of the hidden gems for the group is really in our business parks," he says. The target market for the factories in the business parks is small and medium enterprises (SMEs).
EcoWorld is developing four business parks: EBP I (612 acres), EBP II (383 acres), EBP III (248 acres) and EBP V (518 acres). The first phase of the first three parks has been launched and the take-up rates have been encouraging. EBP I's factories have all been sold and are awaiting the release of the bumiputera lots, while the take-up rates for EBP II and EBP III are 96% and 85% respectively. About 50% of the buyers are locals, while the rest are foreigners, mostly from Singapore.
EPB V, with a gross development value of RM2.75 billion, will be launched early next year. The details are still being finalised.
The products in the business parks include cluster factories — four factories linked together in a square — and semi-detached factories. There are land parcels that have been set aside for customised factories. The selling price for the cluster factories is about RM420 psf, and for the semidee factories, RM350 psf.
"We keep land [for customisation] for purposes of flexibility, but our model is to first sell the cluster and semi-detached factories because for SMEs, you can estimate what is the size they need. It is easier to deal with a lot of SMEs as they have many friends in the same industry so you can get the volume of business going," says Chang.
An interesting point is that the business parks are built near the developer's residential townships. This is to ensure a steady supply of workers for the business parks who do not need to travel far to get to work.
"Our idea was to set up clean and neat business parks, which are also centres of employment," says Chang. "We like our townships to be near the business parks. So when the business parks thrive, we know the demand for our townships is sustainable."
The residential townships of Eco Botanic, Eco Spring and Eco Summer are close to EBP I and II, while Eco Tropics is close to EBP III. As for EBP V, the nearest township is Eco Grandeur.
At present, EBP 1 features a lot of businesses including manufacturing, warehousing, office equipment suppliers, furniture, hardware, showroom and retail. EBP II houses mostly logistic companies while the factory spaces in EBP III, on the Pasir Gudang side, are used as showrooms and for retail purposes.
Chang says EcoWorld has 1,761 acres for business parks, which make up 22% of its total land bank of 8,000 acres. Each business park is gated and provides several green features such as rainwater harvesting, north-south orientation, heat reduction aluminium louvres, high windows, LED street lights and ample green spaces. The internal roads are also wide (between 80ft and 100ft).
"About 12% of the land is set aside for greenery, over and above the standard requirement of 8%," says Hoe. All the green spaces, which include outdoor gym equipment and gazebos, will be maintained by EcoWorld. She adds that from 2014 till today, the three business parks have chalked up RM890 million in sales.
'Experience matters'
The encouraging sales figures certainly prove that whatever EcoWorld is offering in its business parks, the buyers are confident the developer will deliver even though the company has only been in operation since 2013.
"We are not new to the business park business. Our team has been in this line over the past 8 to 10 years even before EcoWorld started," says Chang. "In EcoWorld, Hoe and the team have devised an overall protocol, where we create a business environment — there is networking, briefing on new products and laws and so on. We build a business community."
The business community building process is one aspect of a comprehensive one-stop solution service that EcoWorld is providing factory buyers. Chang and Hoe both emphasise that EcoWorld will provide as much support as possible to ensure that business is done without hassle. This includes helping foreign buyers obtain licences and dealing with the authorities.
"In our panel, we have chartered accountants, company secretary and so on, to help them set up their company," says Chang.
This service is provided without any additional cost to the purchaser. However, there is a maintenance fee of three sen psf to pay for the security system and public spaces. This means that for a semi-detached factory the monthly fee could be about RM200 to RM300.
While companies wait for their factory to be fitted out, there are temporary spaces set up for them to commence businesses.
"In the midst of setting up their business, they can also work here [in the sales gallery] first; that's why there are incubator spaces upstairs, where there is free WiFi, and meeting rooms … they can actually do business here."
At present, there are no amenities such as food and beverage outlets and other services like medical clinics. Hoe says structures to house these amenities will be provided.
"To be sustainable, there will be a commercial element in all our business parks," says Chang.
Also, workers' quarters will be built in the business parks in due time.
Industrial market
While the residential market in Johor, especially of high-rises, is soft at the moment, the situation in the industrial sector is slightly different: here it is driven by need and not speculation.
For Chang though, slowdown or not, it is not something that seems to affect EcoWorld's sales and growth.
"Firstly, to say the property market is soft is a perception issue; growth is still here, unemployment is very low, people still have jobs. The point about Iskandar Malaysia that is working very well is industrialisation and a lot of people are investing. One of the key factors that sustain Iskandar Malaysia is industrialisation," he says.
Property consultants familiar with the Johor industrial sector concur with Chang's evaluation that it is one of the pillars of the state's economy. The sector's performance for the year, however, did see a decline both in transactions and value.
According to Samuel Tan, executive director of KGV International Property Consultants (Johor) Sdn Bhd, the National Property Information Centre (Napic) has revealed that industrial properties in Johor dropped to 169 units in 1Q2016 from 394 units in 1Q2015 and from 207 in 4Q2015 (a decline of 18.4% and 57.1% respectively). In terms of value, 1Q2016's results were RM397.62 million, down from RM669.01 million in 1Q2015 and RM525.47 million in 4Q2015 (a decline of 40.5% and 24.3% respectively).
Regardless of this, Tan says Johor Baru continues to take the lion's share of transactions and value in this sector.
According to Foo Gee Jen, managing director of CBRE|WTW, "Our observation reveals that there are still parties interested in industrial properties; it's just that they are adopting a wait-and-see attitude as the overall sentiment is cautious.
"Industrial properties are generally selling at RM320 to RM350 psf. It might be a good time to buy as developers are offering better bargain packages, such as cash rebate, low repayment and GST absorption in this buyer's market."
According to Tan's data, standard new industrial properties are currently being sold for RM270 to RM350 psf.
Both consultants say that based on Malaysian Investment Development Authority data, businesses interested in industrial properties in Johor are mostly from the manufacturing sector.
"Johor recorded the highest in the number of total projects approved for the manufacturing sector among the states, with total proposed capital investment of RM18 billion from January to August 2016," says Foo. "Domestic investment recorded about RM9.4 billion, while the remaining RM8.6 billion was foreign investment. We see that businesses [dealing with] food processing, chemical, oleochemicals and logistics and warehousing are entering the Iskandar Malaysia industrial market."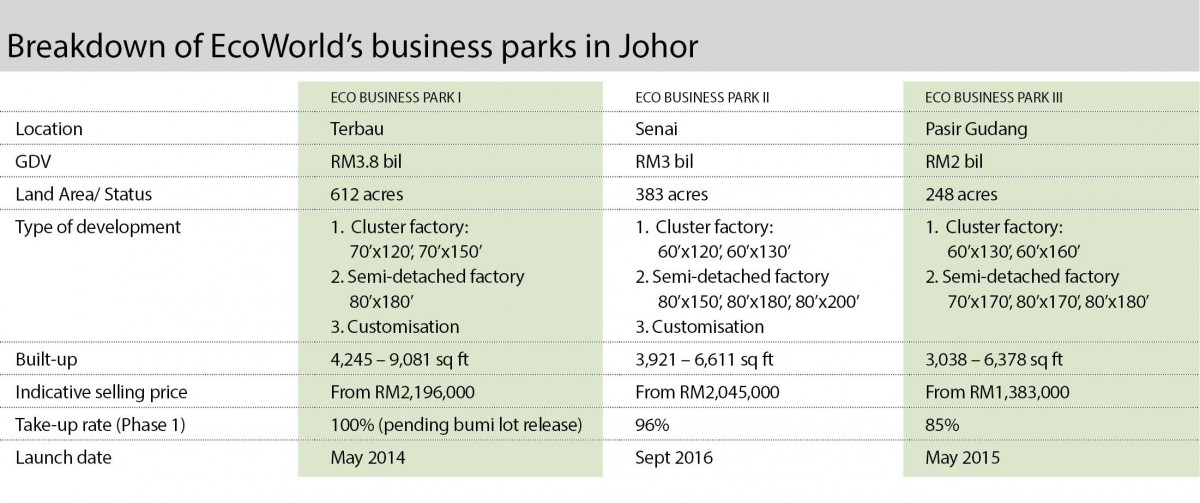 Tan says foreign investment totalled over RM5.127 billion in the first half of 2016, exceeding the amount recorded in 2015 (over RM3.141 billion).
"With the strong performance by foreign investment, it is a matter of time before domestic investment expands to support the supply chain needed for the foreign manufacturing concern. Johor's foreign investment constitutes 19.1% of the nation's foreign investment," he says.
"Looking forward, the manufacturing industry will face a headwind due to the weak global economy. However, Johor will continue to attract multinational corporations [MNCs] due to its offerings of good infrastructure, proximity to Singapore, and more importantly, the traditional DNA of the state as a manufacturing powerhouse."
Both consultants are optimistic that the industrial property sector will hold steady, going forward.
Foo says, "The industrial market in Johor Baru is expected to remain stable in the short term and strengthen again when major infrastructure projects such as the high-speed rail and the Johor Baru-Singapore Rapid Transit System gather pace."
Tan concurs, saying, "It depends very much on the economy. However, in the case of Johor, our unique DNA will see us as the forerunner when the economy recovers and our industrial sector will enjoy this benefit."
Chang and Hoe recognise this fact and have positioned EcoWorld's business parks in Johor to be a product of choice for the many MNCs and SMEs interested to do business in the state.
"For us, we think if we continue to innovate, produce good designs, give good service, and work hard, we will hit our targets," Chang says.