Johor: Is it time for some good buys?
2016 was a rough year for the Johor property market. The continuity of economic and political uncertainties, no easing on banks' lending policies and concern of oversupply in high-rise properties has remained a burden to the market.
The negative factors have dragged down the value and volume of transactions for properties in Johor in 2016, and the market in 2017 is expected to continue being haunted by these factors.
According to data from the National Property Information Centre (Napic), the total value of transactions in the third quarter of 2016 (3Q2016) for the major types of properties in Johor, including residential, commercial, industrial and agricultural was RM3.908 billion, 29.33% down from a year earlier and 15.56% down from the preceding quarter.
Meanwhile, there was a total of 8,840 transactions in 3Q2016, declining 26.4% from a year earlier and 21.28% from the preceding quarter.
Looking ahead, KGV International Property Consultants (Johor) Sdn Bhd executive director Samuel Tan expects the Johor property market in 2017 to be as subdued as it was in 2016.
"In general, property prices in Johor will begin to see some drop in 2017 and if the economy continues to be depressed, there will be more downward pressure on prices," he tells
TheEdgeProperty.com.
Under normal property cycles, assuming the Johor property market began its downturn in the second half of 2014 (2H2014), it will likely take four to five years from that point for the market to recover, offers Tan.
However, there is still some excitement in store for Johor.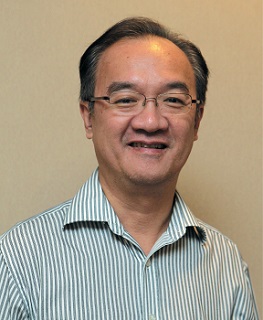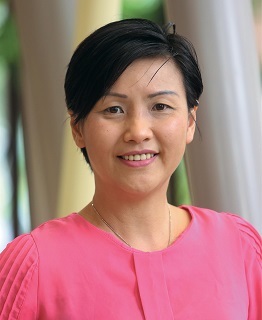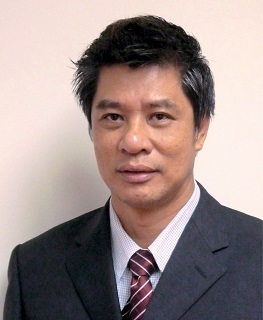 Tan notes that developers from China will continue to feature prominently in Johor Bahru and they will make greater efforts to capture the local market by developing properties in areas favoured by the locals and with prices within the locals' reach.
"This is a natural progression of business. As the China developers become more familiar with the local property market, there will be offers for joint ventures from local landowners," he says, adding that the local property market offers a stable and ready catchment for the developers and any prudent developer would be willing to take on such offers.
Since China's "One Belt One Road" (OBOR) initiative was announced in 2013, Johor has seen more Chinese developers expanding their presence in the state due to its strategic location in the OBOR trade network.
The first Chinese developer in Johor was Country Garden Holdings Co. The Guangdong-based company ventured into the state with its mixed development called Country Garden @ Danga Bay in JB.
The developer then expanded its footprint in JB with mega developments such as Forest City and a joint-venture project known as Central Park along Jalan Tampoi.
Meanwhile, China state-owned Greenland Group and Guangzhou R&F Properties Co entered the scene with Greenland Tebrau and Greenland Danga Bay; and Princess Cove in JB by R&F.

What to look for?
Despite the weak outlook for 2017, the Johor property market offers investment opportunities that often arise when the market is not so rosy. The key for investors in 2017 is to stay invested as there will be good buys.
"If you are looking to invest in Johor this year, commercial properties will be a worthy consideration as prices are moderating, so be on the lookout for properties with ready good-grade tenants," Tan suggests.
Of the 10 districts in Johor, JB remains Tan's choice for investors because of the state capital's large population, strategic location close to Singapore and the bright long-term outlook for Iskandar Malaysia.
"JB will be in the best position to offer investment opportunities. This is further reinforced by the fact that there is an economic blueprint for Iskandar Malaysia to propel it," he explains.
"In addition, the large population of 1.7 million people in Iskandar Malaysia will give JB a huge advantage in providing it with a large catchment market. Its proximity to Singapore is another important factor," he adds.
He also anticipates Iskandar Puteri (formerly known as Nusajaya) and the Eastern Corridor areas to usher in some unplanned catalytic projects from the private sector, including development or expansion in the industrial, tourism and educational subsectors.
"Hopefully, there will be some off-budget infrastructural projects to stimulate the market here. These could be in the form of new or expansion of highways, bridges and others," he says, citing for example, Pontian, which may receive a boost if the bridge from the Port of Tanjung Pelepas to Tanjung Bin commences construction this year.
Meanwhile, property investment and investment education firm CORE Investors Sdn Bhd founder and director Rachel Lim chooses JB city centre, Pasir Gudang and Desaru as her top three property hotspots in the state in 2017.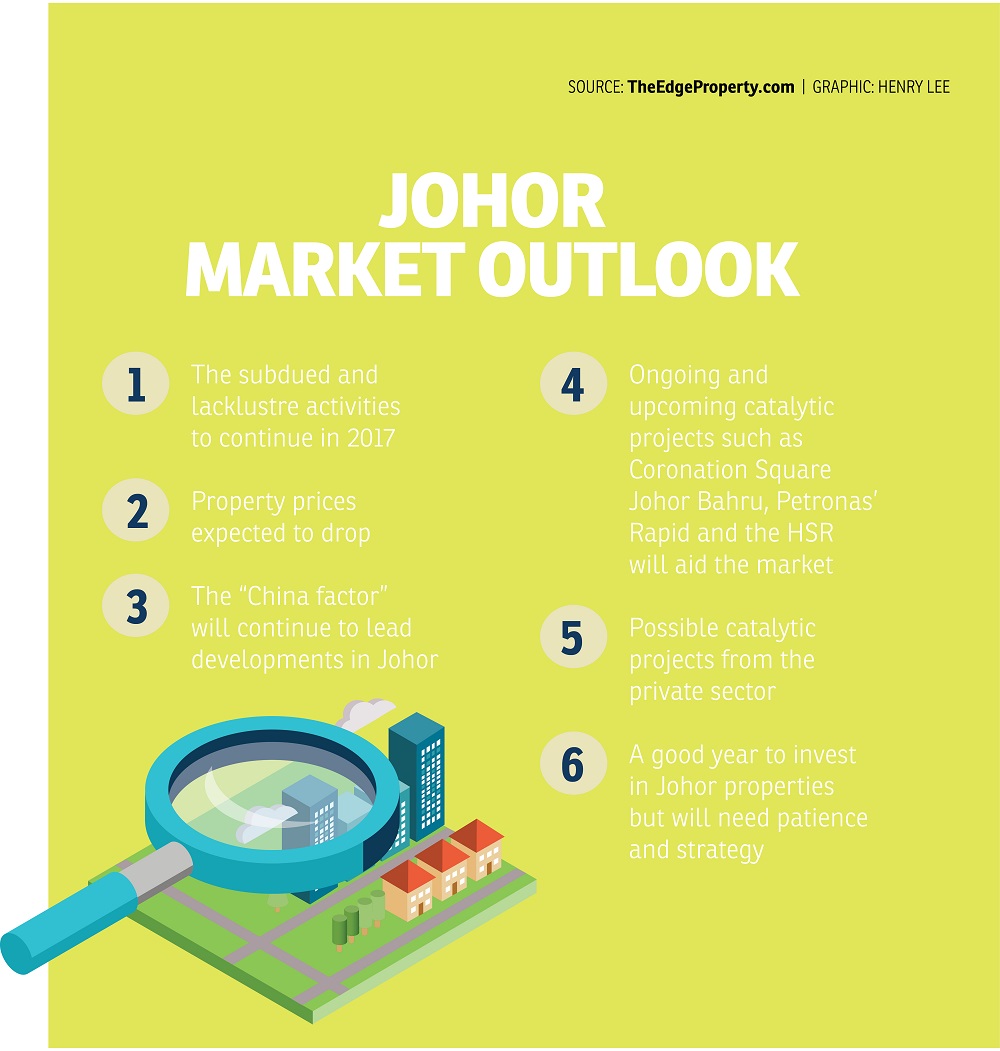 Short for "Community of Real Estate Investors", CORE Investors was established in 2012 and it is currently based in Iskandar Malaysia. According to its website, the company has invested in more than 1,803 properties worth more than RM547 million. Most of the properties are located in Iskandar Malaysia and Kuala Lumpur.
Lim expects JB to benefit from the upcoming JB-Singapore Rapid Transit System, which will connect Johor's Bukit Chagar terminus station to the Singapore terminus in Woodlands North, where it will join the upcoming Thomson-East Coast MRT Line.
"The project will bring more people into the city and create demand for properties," she adds.
As for Pasir Gudang, Lim is optimistic about the outlook for the industrial town as there is still steady demand for industrial property there.
"For those investors who have more capital to invest, industrial property is a good choice because I believe the industrial sector in Johor will do very well in the long run," she says.
Lim also chose Desaru as a property hotspot in Johor due to the positive spillover from Pengerang, where Petronas is developing the RM60 billion Refinery and Petrochemical Integrated Development (Rapid) project within the Pengerang Integrated Petroleum Complex.
"The blue-collared will stay in Pengerang but the white-collared will want to stay in areas with a better environment, so Desaru will become one of their picks," she says.
"We invested in double-storey terraced houses in Desaru back in 2013 for about RM380,000 per unit which we rent out for RM3,500 per month. The more than 10% rental yield is very decent and the capital appreciation is about 40% to date."

A word of caution
Overall, she believes 2017 is a good time for investors with foresight to start accumulating good properties despite the slowdown in the property market.
"However, investors are warned to be cautious when investing in Johor. I advise people to look at properties that have a rental yield of about 7% to 8% or properties that offer potential capital appreciation of 30% in the next three years with help from their unique features."
Lim also notes that with more high-end properties to be completed this year, there will be a lot of desperate sellers looking to let go of their properties.
For Knight Frank Malaysia Sdn Bhd (Johor Branch) executive director Ricky Lee Kong Wah, his top picks for investors to look at in Johor in 2017 are JB, Pontian, Kulai, Batu Pahat and Kluang as the five districts of Johor are set for some interesting developments over the next few years.
He says  JB will continue to grow as its infrastructure is continuously upgraded with links to the smaller towns, notably Kulai and Pontian.
Meanwhile, Kluang, Batu Pahat and Muar are slated to benefit from the Kuala Lumpur-Singapore High Speed Rail (HSR), which is expected to prompt new interest from developers in these areas.
"Investors should look at properties located near the future KL-Singapore HSR stations as the property values in these locations are expected to appreciate as the project materialises," he adds.
Lee notes that the ongoing extension of the Coastal Highway will include a link road connecting to the Second Link to Tuas, Singapore. Once it is completed, it will create smoother and quicker traffic flow from the city centre to Medini, Puteri Harbour and the wider Iskandar Puteri.
As such, Lee suggests that investors keep an eye on the offices in Medini and JB city centre, commercial units in Iskandar Puteri, Bandar Penawar, Pengerang and Kempas, and landed residential properties in Iskandar Puteri, and the Permas-Pasir Gudang stretch, as well as Bandar Penawar and Pengerang.
However, he urges investors not to rush into purchases as there could be more bargains in the Johor market by 2H2017.
"Investors should look at both residential and commercial properties but they must be prepared to wait a long period to see return on their investment," he concludes.